Avlyssningsstationen i Ottenby - The Ottenby Listening Watch
Efter kraschen i Bäckebo då en Tysk experimentraket av typ V2 slog ned i Sverige, gjorde engelsmännen påtryckningar hos svenska regeringen om att få bedriva radiospaning mot raketanläggningen i Peenemünde från svenskt territorium. Syftet med avlyssningen var att detektera de radiosignaler som styrde raketen för att utveckla ett motvapen.

Avlyssningsstationen inrättades i Näsby utanför Ottenby under oktober/november 1944 och var i drift tills dess Peeenemünde intogs av sovjetiska trupper i början av februari 1945.

Avlyssningen var fruktlös. Majoriteten av de tyska raketerna styrdes inte av radio utan av mekaniska styrsystem.

För mer information, läs min essä "Raketen och jag".

After the crash in Bäckebo, when a German experimental rocket type V2 impacted on Swedish soil, the British started negotiations with the Swedish government in order to allow for radio surveillance of Peenemünde from Swedish territory. The aim of the surveillance was to detect the radio signals that controlled the rocket in flight in order to develop a countermeasure.

The surveillance station was established in Näsby outside Ottenby during October/November 1944 and was operational until Peenemünde was occupied by Soviet troops in the beginning of february 1945.

The surveillace was useless. A majority of the German rockets were controlled by means of mechanical equipment.

For more information read my essay "The Rocket and I".
Fotografier - Photos
Dessa fotografier togs av min vän Tommy Karlberg under ett besök på Öland nyligen:
These photographs were taken by my friend Tommy Karlberg during a visit to Öland a while ago:

I denna stuga skedde avlyssningen: antenner och optisk utrustning monterades på taket i flera omgångar.
This was the cabin where the surveillance took place. Several antennas were mounted on the roof along with optical equipment.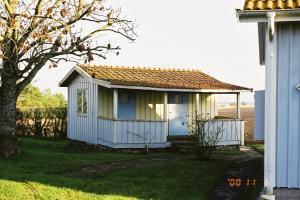 Detta var det ena bostadshuset. Ett andra bostadshus är numera rivet.
This house was the living quarters, another house for the soldiers is nowadays demolished.